| | | |
| --- | --- | --- |
| | The Terrible Adventures of Kroc le Bô (RPG comics) | |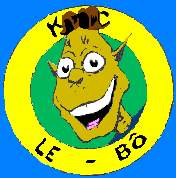 For you pleasure I took upon myself to translate the best RPG related French Comic Kroc le Bô (Kroc the fair) but i am also uploading the original French versions.

It deals with an abnormal gobelin named Kroc, living in the very cruel world of AD&D. This gobelin does not fit the AD&D commonly adopted description: he is good looking, he is nice and friendly, he is altruistic, he loves arts, he believes everyone is working for the common good and everyday his faith in tested since the world of RPG is not as ideal as he may think. I hope you'll al enjoy his adventures (please forgive me for my sometimes imperfect translations).
If you like this comic, then please, buy it. It only exists in French, but this is really worth it. It cost barely 8€ (fnac.fr). Support what's good, and do not spread the sheets. They are intended for you to have a try at this comic and not to prevent you from buying it. This comic is made by Chevalier & Segur.


Design © 2003 yassineb, modified by Thibault Sarlat.
Thibault Sarlat, all rights reserved, October 2003.
This page was updated on March the 19th 2004.